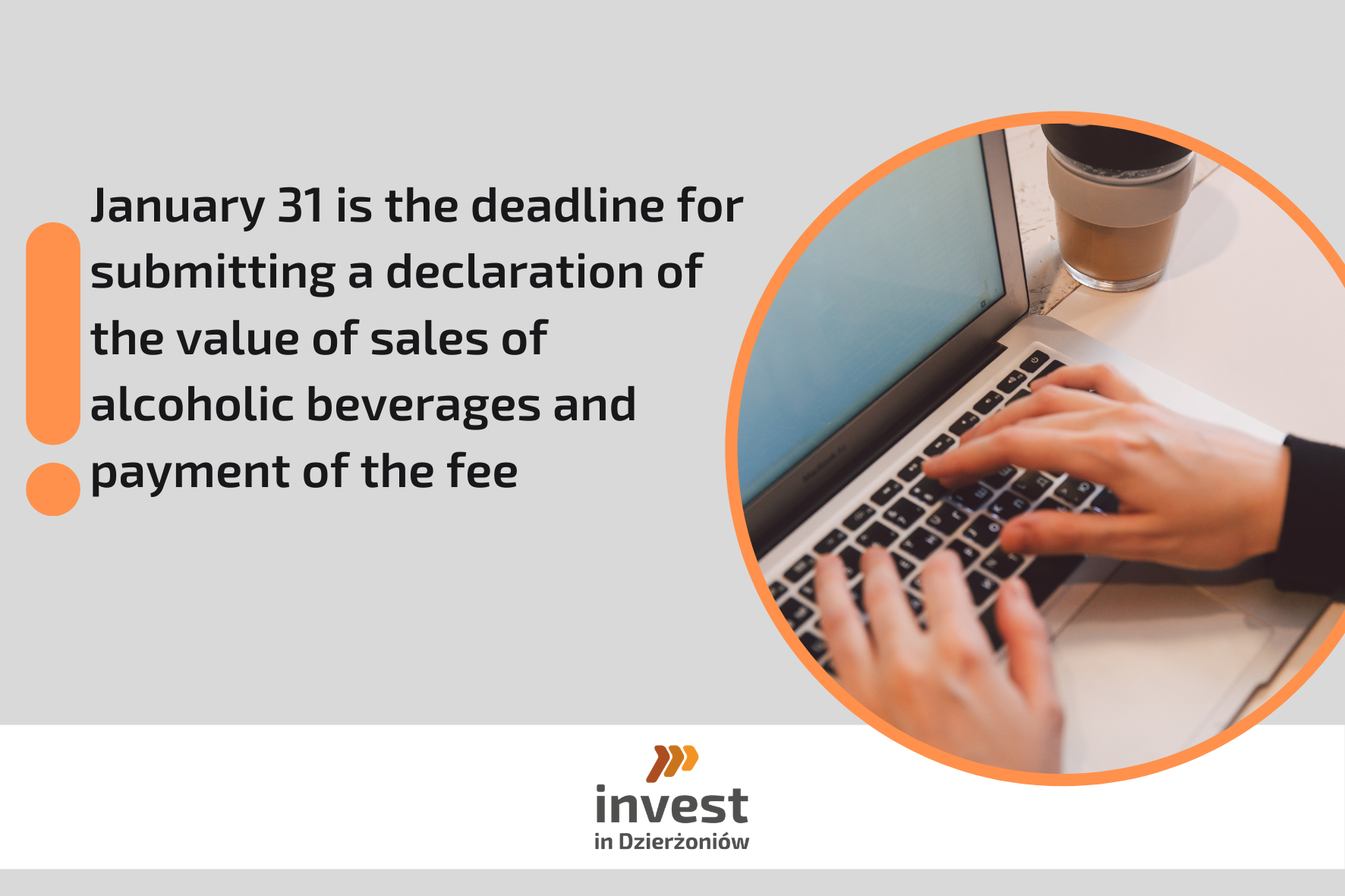 January 31, 2021 is the deadline for submitting a declaration of the value of sales of alcoholic beverages in 2020 and payment of the fee for the use of permits for 2021.
Attention! This year, January 31 is a public holiday. However, the principle of postponement to the first working day does not apply! If you plan to apply in person, you must do so by January 29!
The declaration (download at the bottom of the page) can be submitted:
• during a visit to the office - put the completed declaration into the urn at the entrance to the Customer Service Office,
• by letter,
• electronically (using a trusted profile or qualified signature).
The fee for the use of permits shall be paid in three equal installments by the following dates: January 31, May 31 and September 30 of a given calendar year or once, by January 31 of a given calendar year.
Entrepreneurs whose permits expire in 2021 - pay a one-off fee by January 31, 2021 in an amount proportional to the period of validity of the permit (calculated in days).
The fee should be paid to the account of the City Hall in Dzierżoniów: 34 9527 0007 0046 7773 2000 0002 or at the office's cash desk - with the note: 1st installment (if applicable), fee for using the permits for the sale of alcoholic beverages A + B + C and the address of the point of sale alcoholic beverages.
Remember! If you do not submit the declaration or do not pay the payment on time, your permit will expire after 30 days. In order for the permit not to expire, you must submit a statement during these 30 days along with the fee for using the permit. However, you have to pay an additional fee - the amount is 30% of the annual "basic" fee for using the permit.
If you fail to comply with these steps, your permit will expire, and you will be able to apply for its re-issue no earlier than 6 months after the decision on the expiry of the permit was issued.
More information: Justyna Winiarska, tel. 74 645 08 48, e-mail: jwiniarska

um [dot] dzierzoniow [dot] pl