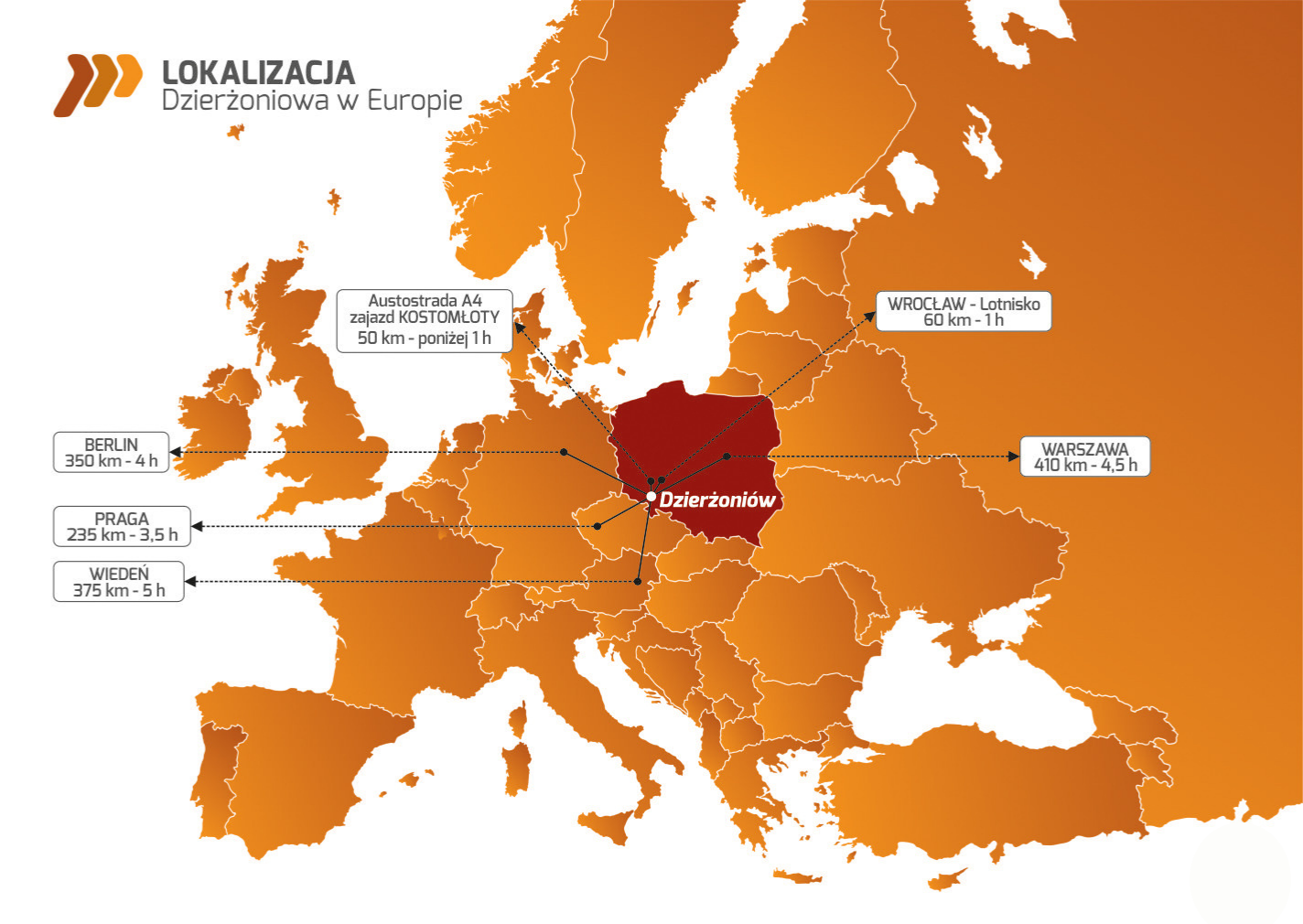 The city appeals to investors with its attractive geographic location (location in close proximity to national roads, the Czech and German borders and the Wrocław metropolis), as well as its large socio-economic potential. There are over 4,000 business entities registered in the city. Although most of them are businesses with domestic capital, foreign investors are also eager to locate their businesses in Dzierżoniów. Germans, Americans, Koreans, Danes, Swedes, Italians, Austrians and French have already invested in the city. Modern technologies have an increasing share in the economy of Dzierżoniów.
The Dzierżoniów Economic Subzone plays a key role in the development of the local economy. It operates within the Wałbrzych Special Economic Zone and offers favorable conditions for locating investments. Currently, 22 companies operate in its area, which in total have already invested PLN 881.09 million and created 2,469 work places.
An investor starting or developing a business in the city has the possibility of obtaining real estate tax exemptions and income tax exemptions within the Polish Investment Zone. The city supports the promotion of local entrepreneurs by organizing the annual event - an economic trade fair - the Dzierżoniów  Presentations each year. The good condition of the economy in Dzierżoniów has a positive effect on the level of unemployment and the wealth of the society. Year by year, unemployment is decreasing and wages are systematically rising.
Investment incentives used in the city
GOOD COOPERATION OF THE CITY WITH ENTREPRENEURS realized, among others, as part of the Dzierżoniów Council of Entrepreneurs. 

EXISTENCE OF THE SUB-ZONE OF WAŁBRZYCH SPECIAL ECONOMIC ZONE WSEZ (WSSE)"INVEST - PARK" offering favorable and attractive conditions for investors 

HELP IN THE INVESTMENT PROCEDURE thanks to the Municipal Investor and Exporter Assistance Center (GCOIE) operating in the city

FAVORABLE GEOGRAPHICAL LOCATION due to the proximity of national roads, motorways and the airport

CONTINUOUS IMPROVEMENT OF TRANSPORT ACCESSIBILITY implemented through such investments as the construction of the bypass of the southern part of the city or the reconstruction of the provincial road No. 484 Dzierżoniów - Łagiewniki

WELL-DEVELOPED TECHNICAL INFRASTRUCTURE

TAX PREFERENCES FOR INVESTORS in the form of exemption from real estate tax for a period of 5 years

PROMOTION OF ENTREPRENEURSHIP